Madeira Bowling Club

Madeira Bowling Club
Established in 1926
News Report
Bowls Devon awards lunch
Author: Jean Healey, 04/11/19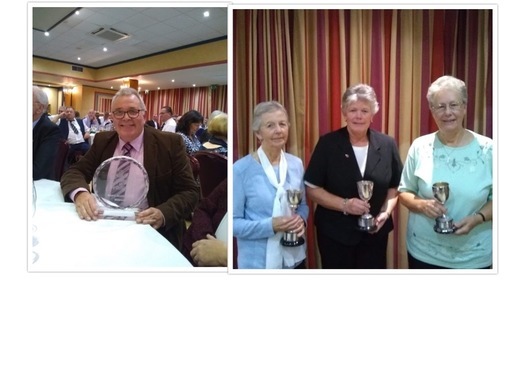 Madeira went to Torbay with 4 mixed triples, unfortunately only winning on 1 rink, led by Dave Moody with Sylvia Cook and Fay Hughes, who won a tight match 11-8. Bob Finch, Eileen Burston, Myra Furminger were 15 all on the 17th end but lost out by 1 shot.
A friendly match at Exmouth brought Bovey Tracey success on one rink although David Bagnall, John Hopkins, Joan Mansell and Penny Preece won 23-16 it was not enough to win overall and the match was lost 50-60.
The final friendly match was against North Tawton, who Madeira play outdoors in the Summer. Dave Moody, Pat Harris, Chris Reed were on top form and they had a very strong win but former Madeira member Tim Bevan was welcomed back and was happy to be in their visiting winning rink. It was a friendly, fun afternoon when maybe overall scores do not matter.
In the ladies Lane Trophy Madeira against Isca, Jean Rainton, Sylvia Cook, Fay Hughes led all the way but Isca gradually came up in the second half and with a 4 on the penultimate end were ahead but Jean and team managed to take also take a 4 on the last end to win 18-15. As the other 3 triples lost , 1 home and 2 away, this was the only 2 points gained in this match. However at one point during the match away at Isca, water started dripping from the ceiling and one of the teams had to move rinks and the question had to be asked "Is this the first time that rain has suspended play during an indoor match?". Unfortunately, the change of rink didn't change Madeira's fortune and the match was lost.
The Foxlands league saw better fortune for Madeira ladies against Plymouth when both rinks at home won comfortably with Janine Orchard, Dee Williams, Jenny Charles, Nicky Fiddimore winning 28-22, and Sue Harriott, Chris Macaulay, Lin Halpin, Jenny Smith also winning by 6 at 21-15. Away at Plymouth Catherine King, Jan Roberts, Ann Doidge, Penny Preece, managed to win the final end by 1 after being 16 all on end 20. Joy Penberthy, Janet Grundy, Carol Hyett, and Sandie Cox also managed a 1 on the final end to draw 17-17. 3 wins and a draw resulted in 9 points being added to the League record.
The outdoor Bowls Devon Annual Luncheon and Presentation of trophies was held at the Langstone Cliff Hotel, Dawlish Warren, and Madeira were represented by Martyn Eveleigh collecting the trophy for winning the Senior Fours on behalf of the rest of the team of Cliff Skinner, Terry Reardon and Bill Davis.
There were trophies for each for the runners up in the Ladies Triples Championship 2019 which were happily collected by Jacky Howell, Janine Orchard, and Jan Roberts.
Follow the site to get the latest news and results straight to your email